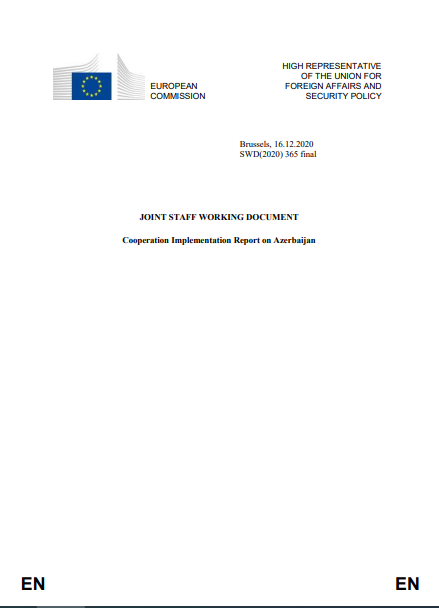 Dec 12, 2020
Joint Staff Working Document - Cooperation Implementation Report on Azerbaijan
In line with the revised European Neighbourhood Policy (ENP), this report outlines key reforms and developments in Azerbaijan's relations with the European Union (EU) since the publication of the previous implementation report of 11 March 2019. The report focuses on the priority areas set out in the EU-Azerbaijan Partnership Priorities:
i) strengthening institutions and good governance;
ii) economic development and market opportunities;
iii) connectivity, energy efficiency, environment and climate action;
iv) mobility and people-to-people contacts.
The partnership in connectivity continues to play an important role in EU-Azerbaijan cooperation. On 29 February 2020, the meeting on the Memorandum of Understanding of EU-Azerbaijan strategic partnership in the energy field took place in Baku to discuss ways to improve energy security and diversification of energy supplies as well as the ongoing implementation of the Southern Gas Corridor. The Sixth Ministerial Meeting of the Southern Gas Corridor Advisory Council took place in Baku on 28 February 2020. The completion of the Southern Gas Corridor between Azerbaijan and Europe and the first dispatch of gas is envisaged by the end of 2020. Furthermore, the EU and Azerbaijan will be working towards providing additional gas supplies to the EU and to the Western Balkans by extending the capacities of the TANAP (Trans-Anatolian) - TAP (Trans-Adriatic) pipelines and building additional pipeline connections towards Western Balkans and EU.